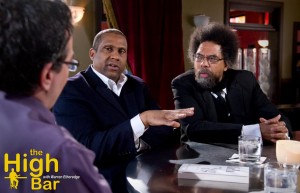 I don't get nervous.
I speak with stars. I speak with smarties. I speak with thousands. I don't get nervous.
I speak with authors and artists I greatly admire — Howard Jacobson, Guillermo del Toro, William Gibson, Sir Salman Rushdie — and actors I truly adore — Jodie Foster, Gary Oldman, Tilda Swinton, David Strathairn. I don't get nervous.
I address CIOs and CEOs and the journalists of the BBC. I don't get nervous.
On Tuesday, I hosted two men I revere; the iconic Dr. Cornel West, whose works (Democracy Matters
; Race Matters
) have strongly influenced my sense of our nation's social (dis)order, and Tavis Smiley, whom I consider the best conversationalist in the business. (Or, on my more immodest days, one of the top two. ; ) And, I must confess, I got a little nervous. (When you watch the show — when it premieres in May — you may note I get a little tongue-tied during my opening remark.)
It was an honor to welcome Brother Cornel and Brother Tavis to The High Bar, their visit an unforgettable high point for our first three seasons. They were affable, gracious and unerringly professional, introducing themselves to every crew member and repeating themselves after any unanticipated interruptions. Personally, our talk — about poverty and their new book, The Rich And The Rest Of Us
— provided me a career highlight that shall always make me giddy: the handful of times I got the two of them to laugh in unison, with surprise and almost conspiratorial delight. I rank Dr. West's and Mr. Smiley's warm, won, approving laughter right up there with a moment when hosting Robert Duvall and Luciana Pedraza, when the actor, during our q&a, covertly turned to his wife and whispered of me: "Who is this guy? I like this guy. He's funny. I like this guy."
I guess I can live with the fleeting jitters for such heartening rewards.
If you'd like to know a secret for why my nervousness quickly subsided, I'll tell you, much credit goes to Jason Ganwich, the flip, yet unflappable producer of The High Bar and the amazing crew he assembles. Throughout Jason's tenure, I have been blessed with a team of dedicated filmmakers, all of whom contribute monumentally to the increasingly high production quality of the show and, as importantly, to my peace of mind on-camera. For this particular shoot, my sincere thanks go out to: Del Brown, Javier Caceres, Jason Ganwich (again), Sam Graydon, Zach Hobert, Alexander Lloyd, Patrick Lloyd, Regan MacStravic, Ron Novak and Marco Scaringi. Thanks to Shoreline Community College for lending a hand and, more accurately, some equipment. Thanks to Emily Resling, Kamala Saxton and Marination Station for keeping the guests and crew fed… very, very well. Much gratitude to Leshelle Sargent and Raymond Ross for arranging the visit for Dr. West and Mr. Smiley and to Jolene Chavez and Volterra for inviting us into their luscious venue. And, even though they are not always on set, super-special thanks are still due to the following stalwarts of The High Bar: Mike Astle, Nancy Dragun, Brian Parker, Robyn Scaringi and Alexander Walsh.
** If you'd like to learn any of my other secrets for initiating and maintaining a conversation with celebrities or even family, please consider my Art of The Interview workshop this coming Monday, April 30th, 2012.
** For those who like to set their DVRs, just keep recording The High Bar on KBTC, Monday nights at Midnight, following Charlie Rose. We will premiere the episode with Dr. Cornel West and Tavis Smiley in May. We will announce a specific date soon, stay tuned.