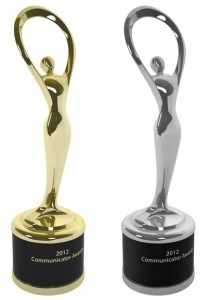 Is it time for The High Bar to build a trophy case?
We are proud to announce that our Season 2 episode with Oscar®-winning actress and filmmaker, Jodie Foster — in which we raise the bar for mental health — just won a national Communicator Award. Directed and co-produced by Owen Richard Kindig of Ztoryteller, the show claimed top honors for Best News/Entertainment Program.
Now, just have to find the proper shelf to place the Emmy®-like Communicator Award (pictured here) alongside our Season 1 "Scannie" Award for Best Production.