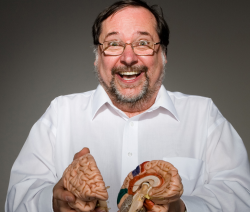 What do you and The Scarecrow from THE WIZARD OF OZ
have in common? You both have brains, but neither of you have learned best how to exploit them.
John Medina is the world-renowned developmental molecular biologist and author of the best-selling users manual, Brain Rules: 12 Principles for Surviving and Thriving at Work, Home, and School
. In lay language, John can explain how we think and how we could take greater advantage of the incredible organ that separates us from our primate cousins.
When John joins me at The High Bar, he debunks multi-tasking while I try to drink and talk at the same time. (Seems he may have a point.) He introduces Theory of Mind and it can make us more compassionate and, possibly, even more successful. Best of all, he raises a toast to and raises the bar for… the human brain.
Cheers!
* John Medina is also the author of Brain Rules for Baby: How to Raise a Smart and Happy Child from Zero to Five
, which is great should you have a little one or are considering another sentient being to your brood.