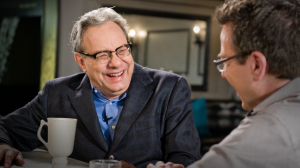 Reports of Theater's death are greatly exaggerated. That's not to say anyone can make a living in it, but still, the theater can prove richly rewarding.
Just ask beloved comedian/notorious curmudgeon Lewis Black who has returned to his first love, playwriting, after a hiatus of a few decades, with One Slight Hitch, a full-length romantic romp he has partially re-imagined and director Joe Grifasi has sweetly re-staged at Seattle's own ACT Theatre. (The show runs through July 8th, 2012. You can buy tickets here: http://www.acttheatre.org/Tickets/OnStage/OneSlightHitch)
On this episode of The High Bar, Lewis rips alcoholics, raps the knuckles of sadistic acting teachersand reaps the benefits of… the "Yale Mafia"?