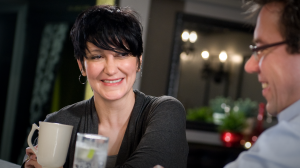 Whether the news we ingest is "fair and balanced" or "fit to print," chances are others perceive our sources as biased. In a world where journalism no longer commands the respect it once did, is it possible to trust anyone, any outlet?
Al Jazeera's Dorothy Parvaz — formerly a columnist and editorial board member for the Seattle Post-Intelligencer — takes tea with me at The High Bar to express her views on how the news ought to be reported and, in turn, consumed and how news organizations might regain the confidence of their reading and viewing public. Additionally, Dorothy recounts her harrowing experience of having been detained/held captive in Syria and Iran, respectively, for nineteen days and how that time has impacted her own approach to covering stories. (Did I just bury the lead?)
Please, watch this episode and, as always, think responsibly®.
For another take on today's journalistic quandaries, tune in to my Season 2 sit-down with The New York Times' Brian Stelter and my Season 1 sparring match with social media mogul Monica Guzman Preston.