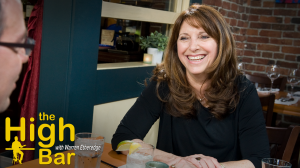 Do you remember…?
If you're fortunate, you do. Memory is an indispensable tool, but one, too often, we take for granted. When Caris Corfman suffered a brain tumor, she survived yet her short-term memory did not. This would be a blow to anyone, but when your career, your passion is acting — a job dependent on the memorization of lines — such a loss could be a lethal blow. However, Caris battled back, staging a one-woman show to the amazement of many and with the support of a great circle of friends, including former Yale classmate, Lewis Black, and documentarian Gaylen Ross. The latter joins me, for her second appearance at The High Bar, this time to discuss her latest film, CARIS' PEACE, and to raise a toast to… Memory.
For another episode about Theater, check out Lewis Black raising the bar for his side-gig, playwriting.
Gaylen Ross visited the first season of The High Bar, when we aired on SCANtv. Eavesdrop on our conversation about Heroism here.