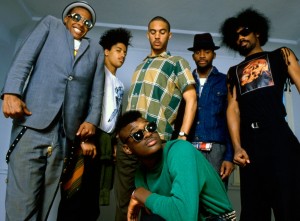 Ice-T, Gwen Stefani, Tim Robbins, George Clinton and Branford Marsalis walk into a bar and go over to the jukebox. Chances are they all agree to play some Fishbone… but have trouble finding a track.
Despite industry-wide consent that Fishbone is one of the most original, influential and badass bands of the last 25 years, too few know their music and only the lucky have seen them play live. Of course, the erratic and eccentric combo of singer Angelo Moore and bassist Norwood Fisher may have doomed them from the beginning, it is also this dynamic pairing that helped redefine hard rock, punk, funk, ska and soul.
If you're unfamiliar with the band, you must see EVERYDAY SUNSHINE: The Story of Fishbone, a head-banging documentary that not only goes behind the music but inside the (twisted?) minds of its creators. Filmmaker Lev Anderson joined me at The High Bar to discuss the long, strange trip making the movie and to raise a toast to…. Fishbone.