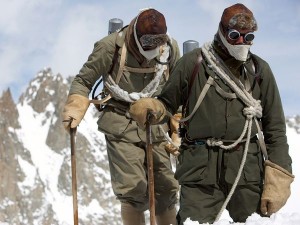 The Mountaineers hosted one heckuva a hoedown this weekend according to this report. Why? Because they're there! And by they, I mean RFK Jr., Jay Inslee and Big Jim Whittaker, the latter of whom picked up a lifetime achievement award for being a climber, and a social one at that. Apparently, scaling Mt. Everest is one of those things that will forever be used as a personal modifier and can never be taken away… much like Academy Award® winner, Celine Dion. But seriously, why do people do it. Considering how many people die making the effort — check out this shocking infographic — why bother? Why not watch the IMAX film with the George Harrision soundtrack
?
I still may never don boots or wield an ice axe or even know exactly what a crampon is, however, when I sat down with maverick mountaineer Conrad Anker during Season 1 of The High Bar, I came understand the reasons why I might. Watch the show then check out the IMAX film, THE WILDEST DREAM
, which recounts George Mallory's attempts to conquer Everest and Anker's efforts to follow in the British explorer's footsteps, only to stumble upon his predecessor's remains.
Think responsibly®.