About The High Bar 
The award-winning program The High Bar, hosted by Warren Etheredge, is seeking corporate partnership to underwrite a portion of the cost associated with producing compelling quality television programming. In return for financial assistance, appreciation will be shown for the corporation with a pre- and post- episode 15-second promotional spot which The High Bar will offer to create (text, images, clips and logo provided by the underwriter) if the corporation so chooses, otherwise the corporation may provide its own material. Depending on the level of financial commitment, 30-second spots, multiple spots and presenting opportunities are also available.
Becoming an underwriter for The High Bar will not only allow a corporation to connect with nearly 3 million households in Eastern and Western Washington, Northern Oregon, and into Vancouver BC and Victoria B.C., but to be associated with meaningful programming that successfully explores the influence and value of culture through informed yet light-hearted and engaging conversation. The High Bar airs Monday nights at midnight,  6am the following morning on PBS station KBTC, and four times weekly on UWTV. Additionally, episodes are available on iTunes U, on TheHighBar.tv, kbtc.org  and uwtv.org. Furthermore, The High Bar tapes an unusually high minimum around 45 episodes annually. As a result, each underwriting spot will be broadcast approximately 270 times in 2012.
Why Underwriting? Why The High Bar?
Corporations often choose to sponsor or underwrite a program as a way to strengthen corporate image and build brand recognition. More than straightforward advertising, underwriting a program on Public Television allows a corporation to get its name in front of viewers while demonstrating the support it has for the arts community and for the culture that makes that community what it is. Appreciation is shown for this support by a thank you and 15-second segment promoting the corporation before and after each episode of The High Bar.
While The High Bar is an award-winning program with a devoted viewer fan base, it also boasts rave reviews from its guests, which recently have included Jodie Foster, Gary Oldman, Miranda July, and many more.
Guest Morgan Spurlock says "Warren makes interviews magic."

No stranger to media engagements and interviews, private detective and author of Prophet's Prey 

Sam Brower credits Etheredge, saying 'this is the most comfortable and natural experience of any show I have been on."

Film director Duncan Jones calls Etheredge "the definition of affable" and compares him to Robert Llewellyn, saying "I love his willingness to just go with the conversational flow."
This high praise from such notable subjects is indicative of the quality and variety of special guests appearing on the program, drawing more and more viewers, boldly underlining the program's staying power.
Each episode welcomes an actor, author, artist, activist or filmmaker to raise a toast to and raise the bar for an issue of great concern to them and to all of us as we move in the world between art, culture, industry and the unknown that draws it all together.  The program has walked the walk of dedication, operating on a skilled and selfless all-volunteer crew. The time has come to reach out to corporations interested in supporting this class of programming and getting that message of support across to viewers.
For Details on Becoming an Underwriter
for The High Bar, contact:
Mark Lipsky

Executive Producer
marklipsky @live DOT com
OR
Warren Etheredge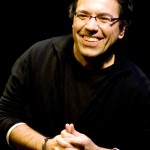 Executive Producer
warren @ thewarrenreport DOT com

Underwriting Guidelines for On-Air Sponsor Messages
Credits are intended as a way of thanking and identifying underwriters and should echo the noncommercial nature of public broadcasting. All spots are subject to the general guidelines set for public television and must be approved by both KBTC and UWTV. Any material that does not meet FCC standards for public television may simply require minor changes.